About the project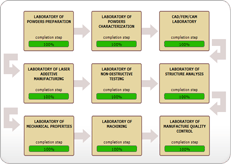 The project is funded from two sources - a grant of the Innovative Economy Operational Program in the amount of 18 116 099 PLN, and grants originating from national funds in the amount of 3 196 958 PLN - the total amount of 21 313 057 PLN and its implementation is planned for the period from April 2009 to March 2011. Within the project 13 sets of equipment including advanced manufacturing systems, components and functional laser additive method, will be purchased.

Starting LAPROMAW laboratory will enable the development of complementary and alternative technologies to the expensive and time-consuming "classical" methods of producing semi-finished and finished metal products such as castings, plastic processing, machining, classical powder metallurgy, which will significantly enhance the competitiveness of national economy.
Among the materials that will be designed and manufactured at the stage of LAPROMAW project implementation will be materials with controlled heterogeneous structure, graded materials and advanced composites used for the manufacture of products designed to operate at elevated temperatures and highly corrosive environments and exposed to severe abrasive wear, erosion, or cavitation.
A particular direction of the expected applications are multifunctional materials with potential applications in the manufacture of catalytic elements in the combustion process and in the process of decomposition of hydrocarbons and other chemicals, elements of medical implants or components for ballistic shields. Starting LAPROMAW laboratory will provide an opportunity to accomplish an innovative research subjects of national and international projects, including the European Framework Programs. This will be the first this type of project in the area of "high-tech" in Poland capable of concurrent design of material and rapid manufacturing of metal or metal-ceramic.

Dr Janusz Krawczyk Ph.D. Eng. From AGH University of Science & Technology in Kraków visited our Department.

Dr Aleksander Krupski Ph.D. Eng. From University of Warwick, UK visited LAPROMAW laboratory and presented a lecture entitled: "Growth morphology of thin films on the metallic and oxide surfaces".